Shaman - Elite Shaman - Elementalist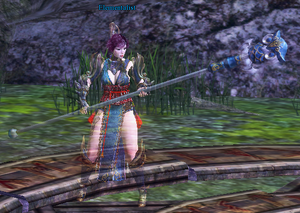 No one knows how or where the Elementalist class began. We can only guess at our roots using documents found in various runes and relics. The Ancient Treasure Hounds Guild Guide is known to be the most reliable story of our history.
"It was Artesia, the great water dragon, that taught Darwin all of his magic. When Darwin later founded Vimpeli to save mankind after the Genesis War, he decided to train human disciples in the ways of magic so that they would be able to stand on their own feet should they face another serious threat. He selected two disciples to carry out his mission: Embla and Alfrig. Embla was wise but short-tempered. Alfrig was tolerant, but terribly introvert. Darwin wanted them to help each other and teach magic to other humans, so they taught magic to the people of Vampeli. Embla improved and developed new forms of elemental magic and was later called Elexx cmentalist by her pupils.
As time went by, the humans' selfishness grew and people with power tried to drive out Darwin and his elves. Darwin, disappointed by their ungrateful behavior, disappeared and his two disciples left Vimpeli. In a rage, Embla set fire to the houses of the men with power in Vimpeli as she fled the city. Alfrig, not wanting to give up entirely, gathered his and Embla's pupils and took them to Ikejans Isle. Embla traveled all over Glenheim to find them again. Although Alfrig introduced Elementalists to the world later on, Embla was really the root of the Elementalists..."
- Treasure Hound Guild Guide, Class Change, Chapter 13 Elementalist
Shamans use different means to manipulate the power of the spirits, depending on where they were brought up. Elementalists from Hernad, where many well-known Shamans emerge, place a high regard on harmony with nature and the spirits and have found a way to summon pure spirits to punish their enemies. Elementalists use their insights on nature to fully utilize the power of each element - and even to fly. It is said that Elementalists who gain a true understanding of nature can summon strong spirits to the sands of Glenheim.
Class Description
Edit
Elementalists use many different AoE magic attacks to kill their foes. They branch into two builds; one which concentrates on flying and AoE and the other which uses mainly staff-based attacks at close to mid range. For PvE look to the Circle Shine build and for PvP, the Circle Shade.
They use wide area elemental magics with their Rod which they hold in both hands. They can shift between Shine and Shade stances and are able to summon spirits (Ifrit, Siaphe).